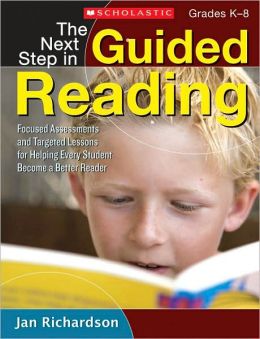 Whew! This chapter was looooong (49 pages!) and it was jam-packed FULL of detailed resources for Pre-A and Emergent readers. This was so applicable for me because this is exactly where most of my kinder-babies are for much of the school year.
Here are some of my thoughts on Chapter 3:
1. What part of the reading caught your attention? Maybe it's something you never thought about. Maybe it's something that you've been trying to get a grip on. Maybe it's something that you've never heard quite they way it was put.
I loved the "Frequently Asked Questions" section at the end of the chapter. What an awesome way to touch on a variety of topics, several of which I actually was thinking about as I read through the chapter. Makes me wish I could watch Jan Richardson in action! What a master teacher!!
I had an AHA! moment when I read her answer of how she starts to teach fluency by framing two to three word phrases in the books her Level C students read. Brilliant! I highlighted, circled, and arrowed this in my book so that I don't forget to use it next year!!
2. How do you already incorporate this into your guided reading routine? There's probably at least some part of the chapter that you're already doing! Tell us about it!
I already have a good grasp on the progression of skills that she talked about in this chapter. I move through the concepts in the same order she presented. BUT...reading this chapter have given me so much motivation to implement this 15-20 minute approach into my guided reading time. I LOVE how she simplified each step and gave various, specific examples of what the time might look like.
3. What is something new you want to try next school year? How do you want to make your guided reading time better or what new things do you want to try?
I want to re-visit my list of sight words. The order in which I teach sight words matches my reading curriculum, but doesn't match the Dolch sight word list that I use for assessment purposes. This confuses me every year and I've known for a while that I wanted to organize it all, but reading this chapter has solidified for me that it is a MUST! It's on my summer to-do list!!
4. What are some resources that you ALREADY HAVE that you can use to teach what you read about in this chapter/section?
I have time in my day for pulling small groups. This may seem obvious for some of you, but it took me several years to find a literacy station system that worked for me. I now know that I HAVE the time I need to pull groups of students, and this book is helping to prepare me with the tools I need to lead them well!
5. What are some NEW resources that you want to get or try to use to teach what you read about in this chapter/section?
I'm pretty sure that I need to purchase or make an alphabet book for my littles who come in knowing less than 40 upper- and lowercase letters. I LOVE how detailed Jan Richardson was as she walked us through exactly how to use the alphabet books to teach letters and sounds and WHY they are so important. It's a must! I need this for next year!
Are you reading along with us??? We would love to have you link up so that we can hear what you are learning from the book too! Our book study host this week is Pam from Mrs. P's Specialties. CLICK HERE to head over to her blog to read her thoughts on Chapter 3 and snag a great freebie! You can join our linky there or at the end of this post.